for mobile devices
PROMT Offline Translator
Your personal translator for all possible occasions: work and education, business trips and vacations, emails and chats. PROMT Translator in your mobile device is your guide to the world without language barriers.
NEW! Talk to anyone using the Dialog mode!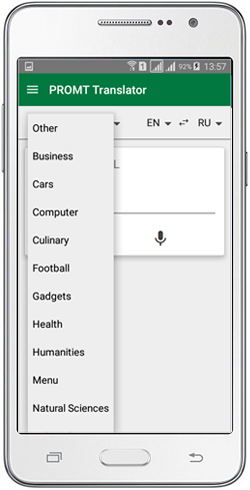 Get High-Quality Translation without the Internet Connection!
You get a 100% offline PROMT multilingual translator, a phrasebook and a dictionary without any loss in translation quality. An Internet connection is required only for translation of web pages and instant translation of the clipboard.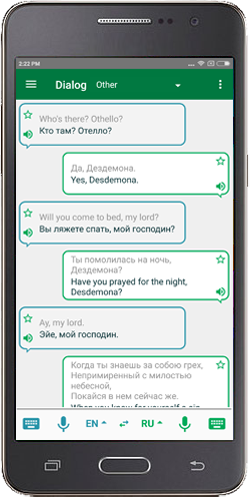 Communicate without Barriers!
Would you like to ask a local for directions? Let the waiter know about your food allergies? Find out the bus schedule in a provincial town? Or just start a small talk? Our new Dialog mode makes these tasks much easier. Choose the language and the topic you need, and engage in conversation! Text and voice input modes are available.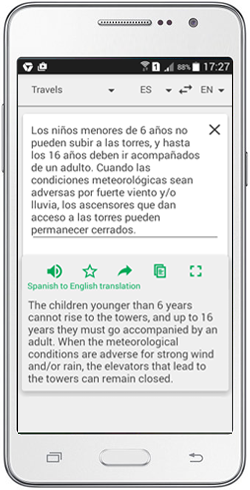 Acclaimed High Quality and Usability
Four years in a row, PROMT gets the highest marks from the experts of the Association for Computational Linguistics (ACL) for automatic translation from English to Russian. The app has already been customized for the most popular topics: education, messaging, social media, traveling, restaurant menus, health, sciences and humanities, business, and many more. Choose the topic you need, and enjoy high quality translation. And thanks to modern design specifically developed for Android, PROMT Offline is really easy to use!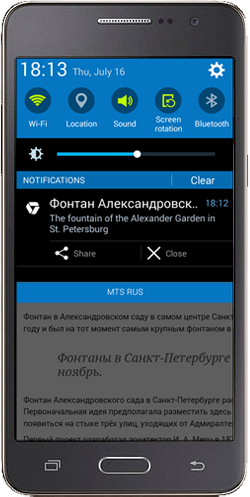 Translate in any App!
Just copy selected text in any app, and see the translation instantly in the system tray.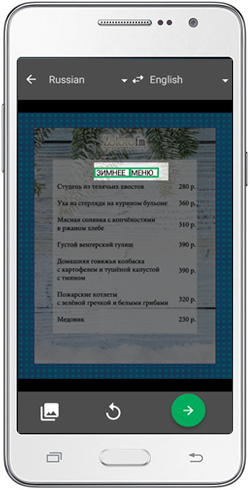 Photo Translation
All you need to do is to take a photo or to choose from the gallery an image containing text, and in a moment you will get the translation. And what is important, you don't need the Internet connection.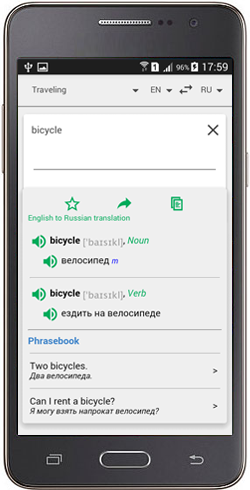 Full-scale Dictionary to Learn Foreign Languages
Built-in dictionary with modern vocabulary contains the translation of words and collocations, as well as grammatical clues and transcription. Text-to-speech feature will help you practice your pronunciation skills.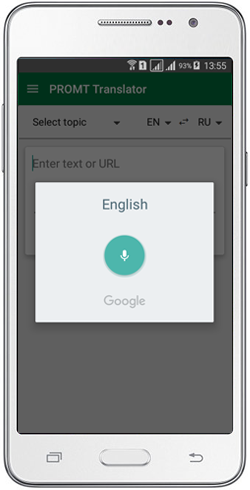 Speech-to-Text and Text-to-Speech Features
Using the voice input, just say a phrase you need to translate, and find out the pronunciation of its translation. You also can listen to the pronunciation of a phrase from the phrasebook.
© PROMT, Ltd., 2003–2019