Latest News
17.05.2012
Online-translator.com is now Available in Firefox Search
The Online-translator.com translation service released its add-on for Firefox. It can be downloaded from the add-ons page for free:
https://addons.mozilla.org/en-US/firefox/addon/translateru/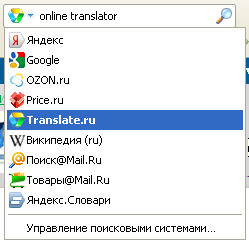 The add-on have the same operating principle as other services available in the search box have: search engines, encyclopedias, etc. To get a translation, you need to enter a sentence or a word into the search box and press Enter. The user will be redirected to the Online-translator.com website, where the translated text will be displayed.
All languages available for translation at Online-translator.com are supported for the add-on: English, German, French, Spanish, Italian, Portuguese, and Russian. To improve translation results, you can select one the following subject areas: education, communication, engineering, shopping, travel, sports, business, etc.
Search in the dictionary allows getting different translation variants for a word, additional grammatical information, transcription and pronunciation recorded by native speakers.
In addition, the developer of the Online-translator.com service, PROMT, has recently released an update for its software solutions using which you can translate web pages in the latest Firefox versions. The PROMT users can
download the update from the company's website
.