Latest News
06.08.2012
Online-translator.com Released an Offline Phrasebook for iPhone, iPad, and Android
St. Petersburg, August 6th, 2012. The PROMT online translation service, Online-translator.com, reports about the release of a Russian-English phrasebook for the Online-translator.com mobile applications for iOS and Android devices.
As the phrasebook is planned to be used abroad, with the Internet access only in roaming, it is expected to operate in the offline mode. After the updated application is installed on a phone or a pad, you can use the phrasebook even without the Internet access.
"Our mobile applications are widely-demanded by active people, e.g. students, school children, business people and, certainly, travelers , – says the PROMT Internet Projects Director, Boris Tikhomirov. – We are sure that with this phrasebook, our application will become an essential part of the mobile baggage. It contains everything you need to talk to people in a cafe, a hotel, an airport, or a shop. Used with our translator, the mobile application is an all-in-one tool for communication, which is more convenient, than an electronic or a paper dictionary ."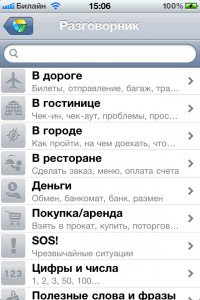 The phrasebook is structured by standard situations: "On the way" , "In hotel" , "At restaurant" with the further division into units for quick search: "Tickets", "Baggage", "Transfer" or even "Which is the way to the library?". For all phrases and words in the phrasebook, English translations are given, as well as transcriptions in Russian. Unlike paper phrasebooks, here translations are displayed in large font to make reading convenient. In addition, you can click the Show icon to view the English phrase in the full screen mode. You can then just show the screen to a waiter or seller, and not torment yourself and the other part pronouncing it. In the near future, communication will become even easier and more pleasant, as all phrases will be pronounced by a professional speaker.
For a dialog beyond the standard phrases (for example, if you need to name the thing you are going to buy), you can switch to the translator mode and translate the necessary text: a single word, a phrase or a whole sentence.
Online-translator.com mobile applications are released for iOS and Android devices and are available in two versions – free and paid (without ads). Applications allow translating not only separate words, but also texts, SMS and e-mails, as well as web pages. Users can get translations of words, transcriptions for the translations and grammatical help. Features for voice input and pronunciation are also available within the solution. Applications are used for communication, reading and translation.
The updated Online-translator.com application is already available in AppStore and Google Play (free and paid versions). It means that those who are going to London to support our Olympic team have a chance to use it. Further plans for the service development include the release of a phrasebook for other languages.
About Online-translator.com
Online-translator.com (Translate.Ru) translation service was established in 1998. Today, it is one of the most popular Internet resources and holds the leading position in Runet ratings. Online-translator.com supports 25 translation pairs encompassing seven European languages, and a number of functions necessary to work with foreign web content. The current monthly quantity of site page viewings is up to 100 million; its attendance is more than 7 million people. The founder and owner of the site is the Russian company PROMT – a leading developer in the field of linguistic IT solutions for enterprises and private users.