Latest News
24.10.2012
Study German on Translate.Ru!
St. Petersburg, October 24, 2012. Translate.Ru, an online translation service of PROMT, reports on creation of grammatical help for German language.
"Every time I think I have got one of these four confusing "cases" where I am master of it, a seemingly insignificant preposition intrudes into my sentence, clothed with an awful and unsuspected power, and crumbles the ground from under me." , wrote Mark Twain about studying of German.
Now German students will have one problem less: Translate.Ru prompts the correct form of a word. The service features complete information on declension, conjugation, degree of comparison, as well as verb category, noun gender, and so forth. With the feature that allows listening to the word pronunciation, you get the whole picture.
According to the Translate.Ru statistics, more than a quarter of users exploit to the language study service. The most demanded language is English (83% of all translations). Therefore, one and a half years ago, the English grammar help was created. Users showed a great interest in the project, and there were a plenty requests for the German grammar. German is the second popular language for the service (12% of all translations). The grammatical help on German is now available. It will also be available for the mobile translator.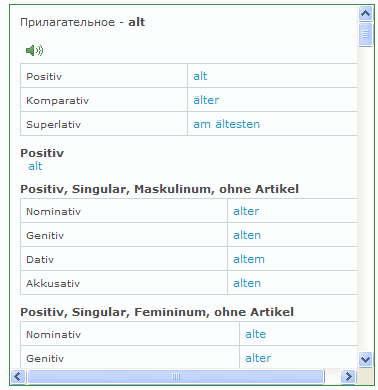 "The German grammar is not simpler for students, than the English one, and information about the German grammar is more difficult to find , says the director of Internet projects of PROMT, Boris Tikhomirov. – We are glad that this feature is now available for users of our service."
Translate.Ru helps to study languages not only offering the grammatical help. In the service setting, Education section holds the leading positions. Thus, you can customize high quality translation of exercises, excerpts from textbooks, and articles on history, literature, and natural sciences.