Workflow with SDL Trados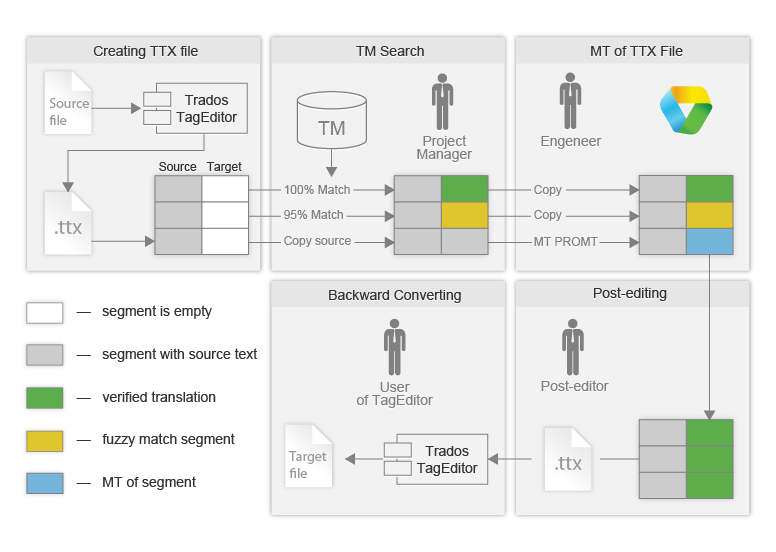 1) Creating TTX file:

SDL Trados uses its own bilingual format for translation projects – TTX or SDLXLIFF. At the start of translation project, all source files are converted to TTX/SDLXLIFF (segmentation also occurs during this step).  Each segment has source text field (shown with grey)  and translation field, which is without translation (shown with white)
2) TM Search:
SDL Trados TM engines looks for TM matches for all segments in the translation project. After TM search, all segments are splitted into 3 groups:
a) 100% matches (including ICE matches) – translations are shown with green.
b) Fuzzy matches – translations are shown with yellow.
c) No Match segments. To apply Machine Translation(MT) to No Match segments, source text should be pr-populated to target segment. This can be done with a special script. Source text, which is pre-populated to target field, is shown with grey.
3) MT of TTX file:
TTX/SDLXLIFF files is translated in PROMT in batch mode. It can be also done automatically by API, if needed.
Due to advanced engineering rules, PROMT translates only No Match segments, which have pre-populated source text in target field. The segments where MT appeared are highlighted with blue.
4) Post-editing:
Human post-editing is applied to Fuzzy Matches and MT'ed segments. All segments have human translation quality after that (shown with green).
5) Backward converting:
When translation and reviewing is finished, the translation project can be converted back to client's format.
Contact PROMT sales team
Special offer
Please qualify for PROMT Educational Program and receive 50% discount for automated translation software.