Latest News
16.07.2013
Translate.Ru Offers an Option on How to Save on Roaming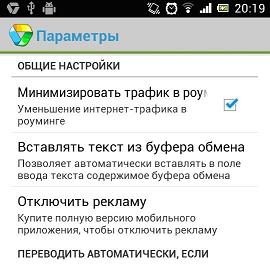 St. Petersburg, 7/16/2013: Translate.Ru (
Online-translator.Com
) owned by PROMT, the leading translation service of the Russian Internet, announces the release of a new version of a mobile application with an innovative traffic-saving mode.
Research conducted by PROMT experts revealed that, most often, mobile translators are used for school, work and while travelling. However, being abroad, users want to control their traffic in order to avoid incurring costly roaming charges. This new version of translators released in the heat of a holiday season, gives users such an option. With the Roaming Traffic Minimization mode, users of Translate.Ru applications for phones and tablets can reduce paid traffic volume by minimizing their access to internet servers.
You can also access this option before your journey, but it will work only while roaming and the application will automatically determine when roaming is active. If roaming is detected, and this option is active, the application will, by default, access the Internet only to translate words and texts.
When addressing the additional functions, such as the translation of sites and pronunciation, a user sees a warning saying that additional traffic will be required. Moreover, the free applications advertizing will be switched off in this mode.
Applications include some very popular dictionaries and phrase books that can be used offline, but it is recommended to download them beforehand. Any attempt to do so while roaming will also result in a warning that you are using a paid traffic.

"Our task is to study user requirements."
– the Director of PROMT Internet projects, Boris Tikhomirov, says.
"In the summer, people are going on vacation, and it is important for us to give them a truly convenient and simple tool for translation so that, while abroad, they can concentrate on enjoying themselves and having fun, and not of the expenses of their mobile device.
".
This new mode operates for all mobile translators, paid and free, for both iOS and Android.
For more information about this and other mobile applications and download links, please see
http://www.translate.ru/Mobile/
(in Russian).