Services
The Translation Department provides the following services:
Translation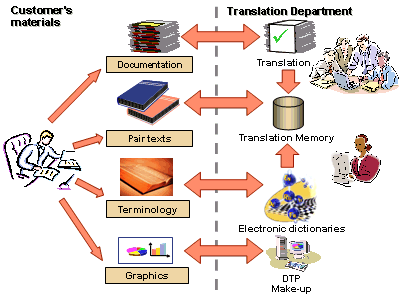 Translation of technical documentation
Translation of large volumes of technical documentation (manuals, instructions, descriptions, reference and training materials and so on) from English and German into Russian and vice versa. The translation is conducted by highly qualified specialists and translators, whose experience and professionalism guarantee solid quality, and involve the most recent automation solutions (SDLTrados Translation Memory systems, PROMT Machine Translation systems and other applications for terminology processing, translation process management and so on).
Quality checks, editing and correction of previous translations
Customers often want to have their translated documentation updated according to some new requirements, e.g. changes in terminology. Our automation technologies and management solutions allow us to quickly analyze the translation and implement corrections in large volumes of documents in the shortest time.
Language pairs

English-Russian
Russian-English
German-Russian
Russian-German
English-German
German-English

Subject domains

IT and Business Application Software
Telecom
Oil and Gas Exploration
Business documentation
Technical documentation
Terminology
Terminology databases, glossaries and dictionaries in special formats
Terminology databases can be created "from scratch" for a project or culled from previous translated documentation provided by the customer.
Customized machine translation
Machine translation of source texts with PROMT includes customer domain-specific dictionaries. This customization allows the translators to choose correct terms and improve their performance.
Translation Memories
Creation/update translation databases
If a Translation Memory database does not exists, it can be created from scratch using source and target documents. If a Translation Memory database, it will be used and updated during the translation effort. A consistent Translation Memory database greatly improves efficiency and translation quality and provides for uniform style and terminology. The Translation Memory is final deliverable for the project just like the translated files themsleves.
Localization Engineering and Desktop Publishing
Localization engineering - preparing documents for a translation
Centralized file conversion speeds up the entire translation process and provides an intuitive environment for translators. It also simplifies the process of putting the document together after translation and guarantees that the original formatting is preserved.
Desktop publishing - preserving initial layout
Our customers receive ready-to-print documents in the original format. All layout is preserved and there is no need to employ additional resources for documentation processing.
Contact PROMT sales team
About PROMT
PROMT is the world leading provider of automated translation software. Our applications and technologies receive awards at major industry conferences and from the leading computer magazines. PROMT offers translation solutions for home and business use, as well as for corporate intranets and online projects.
PROMT provides machine translation for 20+ languages: English, Russian, German, French, Spanish, Italian, Portuguese, Chinese in two variants, Ukrainian, Kazakh, Turkish, Bulgarian, Latvian, Japanese, Polish and others, with a total of 80+ language pairs.
The Ukrainian, Latvian and Polish language pairs included in the PROMT solutions are developed by Trident Software.