Translation Process and Quality Control
The translation process is composed of the following stages:
Analysis and project estimate
Preparation for translation: analysis of original text, reconciliation of terminology, assignment of resources
Technical preparation of documents
Processing original text with MT and TM systems
Translation by professional translators
Editing by professional translators
Re-assembly of translated documents and desktop publishing
Proofreading
Bug fixing, final desktop publishing, final QA and delivery to customer
In addition to the steps above, the project may include additional steps such as customer review and implementation of customer review comments.
The Translation Department's quality assurance system is one of our key advantages:
Excellent quality: automated terminology management and control at all stages of the project, automatic dictionary and translation memory update, a system of online notifications and other relevant tools help assure a high translation quality.
Preventive approach: thorough analysis of all materials provided by the customer, including context analysis; customization of machine translation for the specific project based on analytics and in consultation with the client, development of translation guidelines and detailed instructions for human translators.
Quality at every step: quality control is fully integrated in each and every step of the translation process (translation, lexicography, editing, proofreading, project management). This approach guarantees an objective evaluation of translation quality, transparency and mutual control during the project.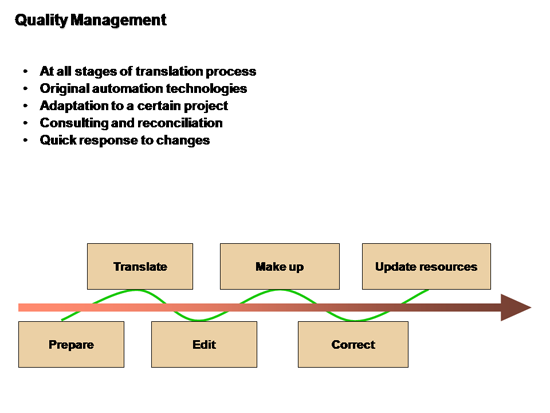 Contact PROMT sales team
About PROMT
PROMT is the world leading provider of automated translation software. Our applications and technologies receive awards at major industry conferences and from the leading computer magazines. PROMT offers translation solutions for home and business use, as well as for corporate intranets and online projects.
PROMT provides machine translation for 20+ languages: English, Russian, German, French, Spanish, Italian, Portuguese, Chinese in two variants, Ukrainian, Kazakh, Turkish, Bulgarian, Latvian, Japanese, Polish and others, with a total of 80+ language pairs.
The Ukrainian, Latvian and Polish language pairs included in the PROMT solutions are developed by Trident Software.