SDL TRADOS Certified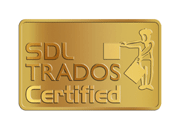 The Translation Department of the PROMT Company is the first in Russia to become SDL TRADOS Certified.
SDL International, the leading provider of Global Information Management (GIM) solutions, announced today that the Translation Department of the PROMT Company has qualified as an SDL TRADOS Certified Language Service Provider in Russia.
PROMT translators are the first in Russia to become SDL TRADOS Certified.
The SDL TRADOS Certification Program was launched by SDL in the end of 2006. The main goal of the Program is to provide the translators community with a single objective tool to measure translators' and project managers' knowledge in using the SDL TRADOS's translation technology. SDL TRADOS Certification is a combination of training programs and multi-level exams developed by SDL experts.
The PROMT Company has gained substantial experience working with automatic translation solutions. The Translation Department has been applying the Translation Memory technology already for more than 6 years.
The main goal of the Translation Department is producing high-quality human translation of large text volumes in the shortest time. The SDL Trados solution allows to reduce processing and translation times significantly , guarantees style unity throughout the documents, and provides for documentation compliance with all technical requirements.
SDL TRADOS Certification for SDL Trados Translator's Workbench has been completed by 5 Translation Department members (a project manager, an editor, and 3 translators). All participants showed their best at the Placement exam, achieved the highest score and were admitted to the Advanced Level exam. Regardless of high preliminary results, they had to prepare hard for the final exam. During the preparation, the courseware was studied thoroughly and main attention was paid to technical aspects and different settings. Two weeks later everybody successfully passed their Certification exam.
All participants of the Certification Program received a logo and personalized web page to confirm being SDL TRADOS Certified. The Translation Department of the PROMT Company was granted the status of SDL TRADOS Certified Language Service Provider .
SDL TRADOS Certification has already gained the acknowledgment of the world translators community. It becomes a quality standard for language services providers worldwide. We strive to be up-to-date and would appreciate opportunities to confirm our Department's competence in using the most recent SDL TRADOS translation technology tools , said Nikolai Tikhonov, Translation Department manager.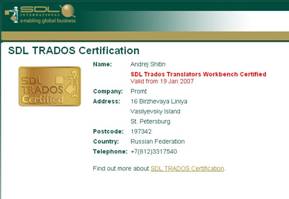 Contact PROMT sales team
About PROMT
PROMT is the world leading provider of automated translation software. Our applications and technologies receive awards at major industry conferences and from the leading computer magazines. PROMT offers translation solutions for home and business use, as well as for corporate intranets and online projects.
PROMT provides machine translation for 20+ languages: English, Russian, German, French, Spanish, Italian, Portuguese, Chinese in two variants, Ukrainian, Kazakh, Turkish, Bulgarian, Latvian, Japanese, Polish and others, with a total of 80+ language pairs.
The Ukrainian, Latvian and Polish language pairs included in the PROMT solutions are developed by Trident Software.