HOW TO BUY @promt TRANSLATOR
Please follow the steps below to place your order for downloaded @promt translators.
Choose your @promt translator
Place your order
Download your product
STEP 1: CHOOSE YOUR PRODUCT
Category selection page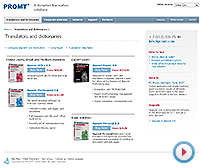 Select the Products menu to review the range of products available.
To choose @promt translator you wish to order, you can click on
the product name, for example @promt Office 8.0
the translator box picture
or the "Buy Now" button
You will be taken to the product description page, where you can select the translation direction(s) you require.
Product selection page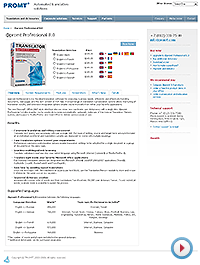 At the top of the product description page you can order:
Any individual pair of language directions (English French or English German or English Portuguese, etc)
OR
The All-in-One English @promt translator which supports translations from English to all the languages shown.
Once you have chosen the translation direction, click "
Buy Now
".
STEP 2: PLACE YOUR ORDER
Cart page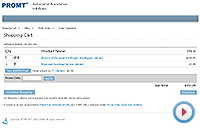 When you click "
Buy Now
" button, you are taken to the shopping cart screen, where you can review your order: types, quantity and prices of the required products.
To add the
BackUp CD
to your cart, click "
Yes, Add To Cart
" to the right of this item.
The Sub-Total price
shown includes the price of:
the required @promt translator
the Dictionaries Collection for @promt translators, if ordered
the Extended Download Service, if ordered
the BackUp CD, if ordered
If you have a
Promo Code
, please enter it and click the "
Apply
" button. The appropriate discount will be taken into account in total price calculation.
If you would like to add another translator to your cart, click "
Continue Shopping
" to return to the @promt products menu.
When you have completed your product order, click "
Checkout
".
Checkout page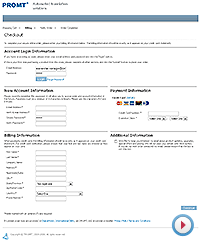 If you have an existing account, enter your e-mail address and password to log into your account, or complete the New Account Information form to open an account.

Check the e-mail address carefully; all order confirmations will be sent to this address.

Once the account information is entered, click "Login".
Payment page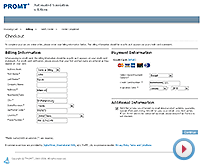 Now enter the Billing and Payment Information to complete your secure online order.

If you would like to receive @promt news by e-mail, please, check the Additional Information box.

Once all required fields are complete, click "Continue".
Order verification page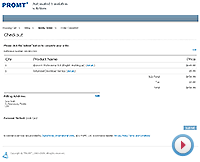 Verify that your order details and billing information are correct and click "Submit" to complete your order.
STEP 3: DOWNLOAD YOUR ORDER
Download link and license number email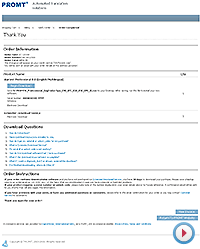 Your order confirmation page contains the details of your order and download instructions.

To download your @promt translator, click "Begin Download" under the product name.

If you have any questions about the download process, please consult the Download Questions guide at the bottom of the web page.
Thank you for being an @promt customer!
Case study
"PROMT has helped Adobe gain significant translation efficiencies, especially for structured content where translation volumes are high and content changes frequently. "
Download PDF (5,3 Mb)
More case studies

"As a result, translation is performed in the real-time mode. Today, we can confidently say that our company has made the right choice – pertaining to both translation solution and the developer company".
Vitaly Gordunovsky, E-Commerce Project Manager of Bosch in Russia.
Download PDF (1067K)
More case studies